Remember when you were in middle and high school, and you were sitting in a classroom and work was over and you had "free time"?  The passtime of choice, when we weren't writing notes to our boyfriends or BFFs, was to go through each other's purses.
No? That was just me and my peeps? I hope not.
Anyway, I want to host a series of posts about what people carry in their diaper bags. I don't care the age of your kid, or what sort of feeding or diapering you do or don't participate in, I think this could be extremely helpful for mothers everywhere who always feel like they have no idea what's going on. Like myself. I remember the moment of slight panic when I suddenly realized that Jonas needed bottles now and the diaper bag that I had was obviously not suited for days spent out of the house with a baby who needed bottles.
Or maybe I'm the only one who always feels like she has no idea what's going on. That's ok, too.
I'll spread the posts out amongst the participants, one or two per week depending on how many there are, for as long as it lasts! Hit me up if you're interested in posting. It can include pictures, or it can be a simple listing. And if you want, I'd love to hear the details on why you carry what you carry. What makes your life better? What's totally unnecessary but you have it anyway?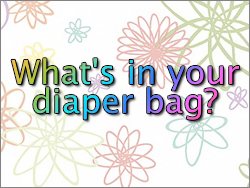 And, if you don't carry a diaper bag, you can of course post "what's in my purse". And no one will be disappointed.