This is the first in my series, "What's in your diaper bag?".  I hope that someone out there might gain a little bit from reading some of these posts, and that we all have a little bit of fun looking into the lives of other mothers! If you would like to post in the series, let me know and leave a comment! 
I know that I'm one of those over-packers – I want to have everything I might want at my disposal at all times when out with Jonas. Because those few times when I haven't had everything, I've needed that thing that I left at home. Like the extra outfit, or the extra snack, or that pack of disinfecting wipes, or diaper cream.
So the first diaper bag that we had was always overflowing with stuff – the nursing cover always barely fitting in the top of the bag. Then when I weaned him, I suddenly realized that there was no way that diaper bag was going to cut it with a baby that needed bottles. So I bought a new one, and it's huge, and of course I always pack it full of crap.
I'm glad I have all that space to put crap, because on days when we're out all day, I have room for everything. On a trip to the zoo, we had ample room for a day's worth of bottles/snacks/food/diapers/extra clothes/sunscreen/toys, and while I actually didn't need everything that I brought, I was glad that I had it. So, I'm definitely overboard when it comes to my diaper bag.
Here's what's in my diaper bag as of lately. Let me just say that our days have been up in the air with workers in and out and the water damage and what-not, so there's stuff in here for every possible outcome of our day.
Food things
Bag with little things that might get lost (cookies, crackers, bib, table cover, spoon, whatever)
Earth's Best table wipes, and those pacifier wipes for cleaning dropped toys
oranges, cheddar crackers, sippy cup, fruit and veggie things that Jonas LOVES
that clear case is a pacifier case.
Extra clothes/diaper things (the actual essential items)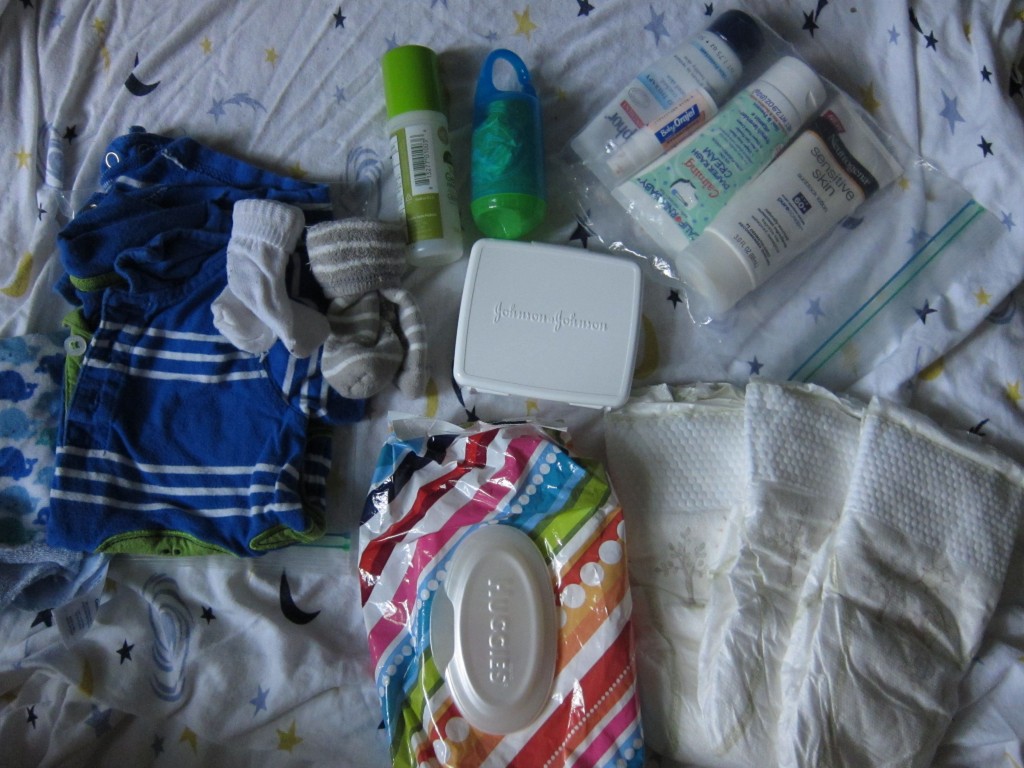 plastic bag with extra clothes, couple of washcloths and socks
pack of wipes
diapers, of course
hand sanitizer
little diaper sacks (starting carrying these when someone made a big deal about throwing away a diaper in regular trash)
first aid kit
plastic bag with sunscreen, oragel, diaper cream and aquaphor
Entertainment
A couple of books
sophie
rings/links
baby einstein flashcards
his little Fisher Price Camera
All packed up!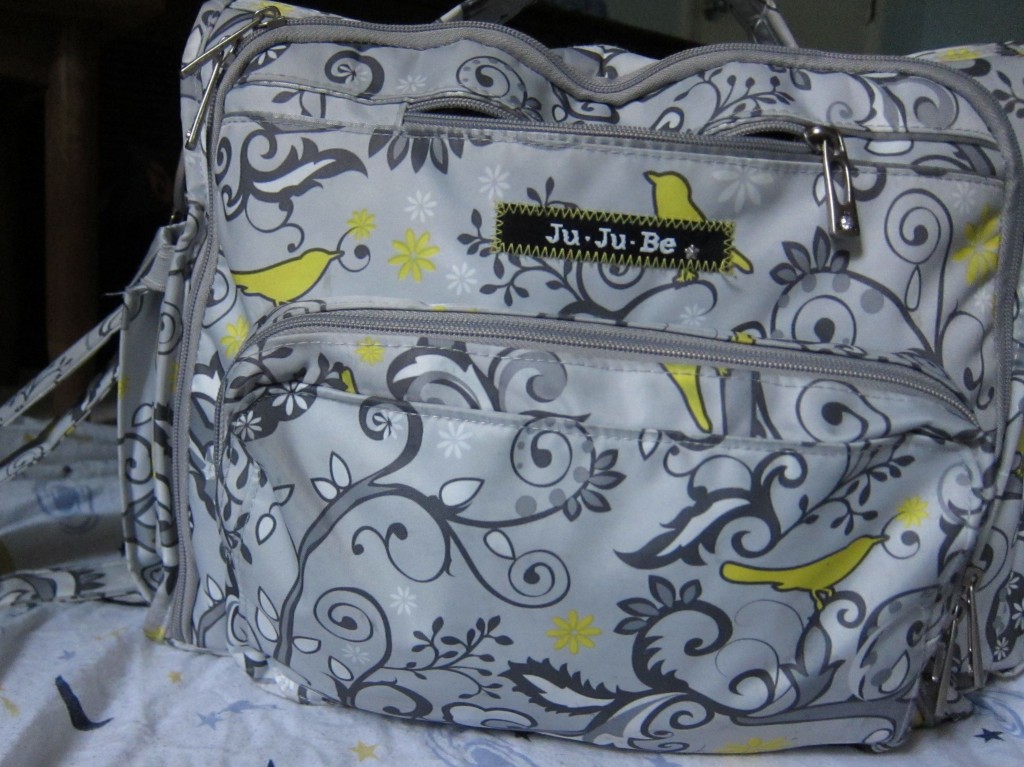 There's a lot of stuff in my diaper bag. Yikes. I do feel like I should mention this is packed full because our days have been really crazy lately, with all of the water damage and spending our entire days out of the home some days. I wouldn't normally carry so much food things or toys with us, but it's been handy to have the options since we've been out of the home from breakfast to bedtime some days and I never really know what we're doing from one hour to the next.
I also carry my wallet and phone in the front pockets, and the dedicated space for those things makes me love this diaper bag. In a few months, we won't need something so big for day to day outings, but I'll love having this one for day trips and traveling.
The constants, besides the obvious change of clothes, diapers, wipes, butt cream, sippy cup, and snack, are a book, sophie, and table wipes. I've found that pack of table wipes to be a necessity, because sometimes high chairs are sticky messes, and if he eats off the table, I feel better if I wipe it first. I've worked in restaurants and I know that their sanitizer water is never changed as regularly as it's supposed to be changed. Â We also carry around a plain adjustable strap just incase the strap on the highchairs are broken, as he likes to try to move around a lot in his high chair. Â If I'm just taking him to my mom's, for instance, or a quick run to Target, I don't take hardly anything with us. Mom has everything he might need, and there's no reason to carry stuff around for a quick trip.