Here we are, back again with another "What's in your diaper bag" post, and this time it's from Lisa at Seriously. She's mama to the ever-adorable 11-month old Olivia.
I have to confess, the diaper bag I'm showing you today isn't my favorite.  My favorite is my studded OiOi bag (half off at zuliliy!) because it is cute and makes me feel like a hot mama.  However, my husband doesn't want to feel like a hot mama, so we usually carry a different bag.  That way I don't have to always be the one hefting around the diaper bag. Compromise, it's what marriage is all about! 😉


We use a Skip*Hop Duo; nice and unisex looking and surprisingly roomy, considering it's not a huge bag.  It has stroller straps, which I luuuuurve.
I was a little shocked when I pulled everything out of the bag and laid it out.  That's a good bit of stuff!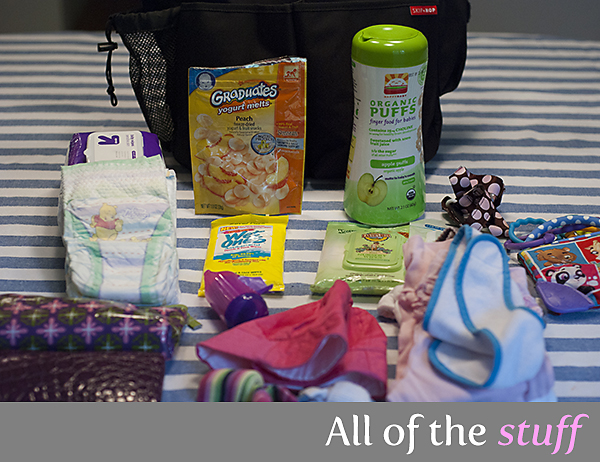 I actually took these pictures at my parents' house, so this is for a trip to Grandma and Grandpa's.  I'd say it's the usual though, because I tend to just leave everything in there.
Let's see what is in the bag…and let's ignore the fact that my pictures are all different shades of light and dark. 😉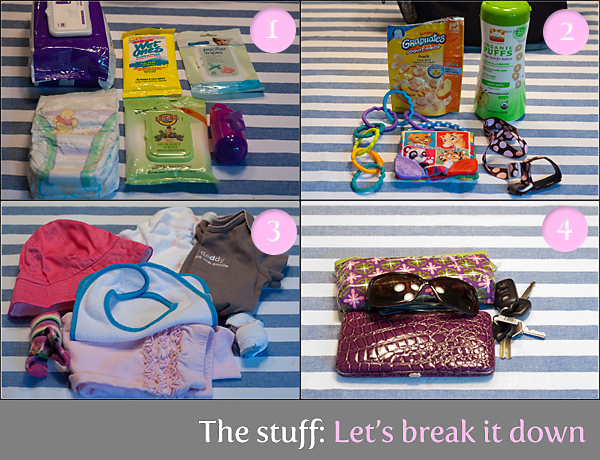 1.  The Cleaning Stuff.  Very important things!  Wipes from Target — we used Pampers Sensitive at first, because that is what they used in the hospital, and then I tried the Target ones and haven't used another brand since.  Naturally, the diapers are there.  We use Huggies because they have a nice gathered back.  Also in the pile are about 3 different kinds of cleaning wipes.  I might have a bit of a wipe addiction.  Earth's Best Nursery Wipes for cleaning tables and high chairs when we are out, pacifier wipes for cleaning toys and pacis that end up on nasty floors of restaurants, and antibacterial hand wipes.  I also carry a roll of Arm & Hammer trash bags.  Those came in super handy when we went to look at a house and Olivia had a blowout diaper that I had to change in the back of the car.  The house was unoccupied, no one was taking out trash, but we were able to tie the dirty diaper up in one of those odor-proof bags until we got somewhere with a trash can, and it didn't stink up the car.  Also handy when we were on vacation and throwing diapers away in the trash can in our room.
2.  The Entertainment Stuff.  I count yogurt melts and puffs as entertainment because these are the main things that keep her occupied while we are eating out.  If she has some puffs to snack on, she is a happy camper.  I also bring some of her toys, with a chain of links, to attach to her high chair.  I usually keep a sippy cup strap in the bag too because I get tired of retrieving her sippy cup from under the table.
3.  The Spare Stuff.  I probably over pack in the spares department.  I have a fear of clothes getting disgusting and not having a change, so I travel with two onesies, an extra pair of pants, a hat, and a couple pairs of socks.  Olivia uses socks as a lovey, so I always toss a few extra pairs in there for nap time and comfort.  Also, at least one bib.
4. The Mama Stuff.  I carry my wallet, a zippered bag full of random things I might need, my sunglasses, and my car keys.  The diaper bag has a nice little pocket on the side that I tuck my sunglasses into, and motherhood has taught me the importance of pants with pockets.  Cell phone always goes in the pocket and if Olivia and I are out by ourselves, the keys go in my pocket too.

In the little zippered pouch goes the mama essentials:  Aquaphor, nail clippers and file, blotting papers, Kleenex, tampons, and Excedrin.  If you're going anywhere for any length of time with little ones…well, Excedrin might be a good idea 😉
Usually if we're going out to eat, a sippy cup will be tucked into the mesh bottle holder on the side of the bag.  What we do for bottles depends on where we are going.  I took a couple of bottles to Grandma's in a cooler bag. If we're going to be out and it might be a bottle time, I'll usually stick a bottle, bottle of nursery water, and a couple of Similac-To-Go packs in the diaper bag.  When we went on vacation, I packed bottles in the little cooler bag that came with my pump and kept it in the back seat of the car, so I could feed her without having to stop.  We might have baby food in a pouch or a jar if we're going out for a meal, we just didn't on this trip because I knew Grandma had food for her.
We also keep some spare diapers, a package of wipes, and a package of disposable changing pads in the car.  That came about after that very messy diaper change in the car, I thought it might be nice to have a big changing pad that can be thrown away, rather than getting poop all over the diaper bag pad (that diaper bag has an outside pocket on the bag with a small, padded changing pad).
So that's the pile of stuff we haul with us every time we leave the house!  Thanks for reading, and thanks to Michelle for hosting!
Lisa's is the 8th post in this "What's in your diaper bag" series! You can check out my diaper bag, Erin's, Elizabeth's, Ashley's, Audrey's, Nora's, and Chelsea's if you're feeling particularly nosy!