There are a lot of really great blogs out there dedicated to feeding kids. My very favorite is Weelicious. Catherine has a wealth of information, including recipes and ideas for making meals fun for kids, and she focuses on fresh ingredients. I'm a little bit obsessed with it all.
The kicker, though, is that she is a trained chef, and I am not. And while I enjoy cooking, I don't enjoy it all the time (the cleaning up kind of gets in the way of total enjoyment), and there's no way I can make homemade cheez-its and fancy dips and whatever on the regular. Well, I suppose I could, but I don't want to. So, I improvise with Jonas's meals, and try to serve him a variety of things. He will eat almost anything we put in front of him. There are a few exceptions – right now, he won't eat salad, any kind of squash unless it is fried (southern boy), peaches, or asparagus. But he will eat any green bean you put in front of him, or a giant bowl of frozen mixed vegetables, or some roasted carrots by the pound. And any other fruit besides peaches.
I am not sure if this is because of something we did, or just because we are lucky and he isn't a terribly picky eater. Perhaps it is a mixture of both of those things. One of the things we try to do is to have family dinner and all eat the same thing, or very similar things. And I try to at least sit with Jonas, if not eat with him, so that it's also a "fun" time.
I try to keep most meals around here simple, tasty, and interesting. He's just now starting to entertain himself for more than about a minute, so perhaps breakfasts and lunches will get a little bit more interesting in the future, but right now, they are easy and quick. And I thought I'd do a series of posts, sharing what we do around here for meals that are toddler-friendly and generally pretty healthy. What makes it even more interesting around here is that I try to keep my meals, and Jonas's, meatless, and Chris likes meat with his meals, so we often do different variations of the same meal to keep everyone happy! If you have awesome kid-approved recipes that you'd like to share, I'd love to feature some guest posts in this series, too! Just let me know!
With this first post, I'm going to go through some of our personal guidelines and limitations.
Jonas doesn't care for milk at all. But he is finally drinking almond milk. His favorite, though it is not mine, is Silk unsweetened vanilla almond milk.
Most days, he eats a baby yogurt for breakfast, with a banana or some other fruit. I buy the baby yogurt because it's whole milk and lower sugar. I think it's a bonus that it's organic.
I prefer less meat, though Chris likes meat with his meals. I prefer that Jonas doesn't eat meat all the time because I deal with 90% of the diapers. (ew) So Jonas gets most of his protein from beans, peanut butter, and dairy, and a small amount from soy products like tofu and veggie burgers and dogs. He is not lacking for protein because he loves beans. A lot of our meals have a meat option, and a meatless version.
I try to serve Jonas a fresh fruit or vegetable with every meal as a personal preference, but he definitely prefers his veggies cooked. He will chew up a piece of raw carrot, but he will not swallow it. I suppose he's getting nutrients from the carrot juice?
A typical day's menu around here looks something like this:
For breakfast, Jonas eats a little cup of baby yogurt, a banana or some other fruit, and sometimes a bread like a whole wheat waffle or bagel, or a left over biscuit. (I typically just have coffee)
Morning snack is typically raisins
A typical lunch is cheese slices, grapes, cooked mixed frozen vegetables, and crackers or toast. (I try to eat salads.)
Afternoon snack can sometimes turn into second lunch, and a peanut butter sandwich may be involved. It's usually fruit and crackers. Or maybe a few cookies.
Dinners around here are typically easy and simple. For example, rice (brown or white), steamed broccoli and a protein is pretty standard. For Chris, it's usually a chicken sausage link. For Jonas and me, black beans.
I'm excited to share more ideas and go-to foods around here!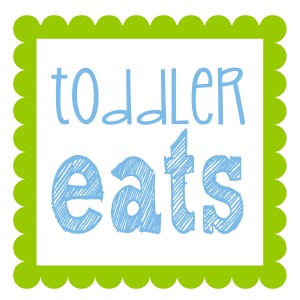 Thanks to the super nice and awesome Stef for making my little graphic up there!